Dedication for the Month of November:
All Souls
O God, the Creator and Redeemer of all the faithful, grant to the souls of thy servants and handmaids departed, the remission of all their sins; that through pious supplications they may obtain the pardon they have always desired. Who livest and reignest with God the Father in the unity of the Holy Ghost, God, world without end. Amen.
Celebrate the Feast of All Souls on November 2nd.
Visit a local cemetery. Look at the tombstones. Pray for the dead.
Plant bulbs outside and tie it into Purgatory (overwintering/waiting) and Heaven (flowering). Inspiration from a friend.
Place a photo album of deceased loved ones on your home altar and pray for them.
Have a fun lunch of ghost toast (ghost-shaped toast with sunny-side up egg in middle).
Break out the family albums and tell stories of times past.
Plan a special dinner.
November Liturgical Plans (includes feast days below as well)
Grateful Tree - a November tradition (our 2015 tree)
All Saints Day
(November 1st)
Father, All-Powerful and ever-living God, today we rejoice in the holy men and women of every time and place. May their prayers bring us your forgiveness and love. We ask this in the name of Jesus Christ our Lord. Amen.
Go to Mass - it's a Holy Day of Obligation! (Psst... This is my favorite Mass of the year.)
All Saints Day Party (with lots of ideas)
Have kids pick out their favorite saints. Tell why. Draw a picture of him or her or narrate a story.
Create square saint art (2x2 or 4x4).
Play Saints Bingo.
Read stories of saints.
Play and sing the song, For All the Saints.
Pray the Litany of Saints.
At nightfall, light a candle and pray a Rosary for the dead in anticipation of the following day (All Souls).
Saint Martin of Tours
(November 11th)
Dear well-beloved St. Martin, you were first a soldier like your father. Converted to the Church, you became a soldier of Christ, a priest and then a Bishop of Tours. Lover of the poor, and model for pagans and Christians alike, protect our soldiers at all times. Make them strong, just, and charitable, always aiming at establishing peace on earth. Amen.
First Friday Activity: story of St. Martin, lantern craft and song

Decide on family act of charity for the upcoming Advent season.

Begin the Grateful Tree notes.

Gift of pajamas to the kids to "keep them warm" over the winter.

Act out story of St. Martin, cloak-ripping and all.

Prayer for our soldiers (it is also Veteran's Day in the U.S.).
Saint Elizabeth of Hungary
(November 17th)
Your servant, Saint Elizabeth brought care to the sick, food to the hungry and hope to the hopeless,
Grant us they blessing that we may follow in her footsteps with love and joy on our hearts.
Amen.
Tell her story and read a poem.
Pray for the salvation and holiness of relatives.
Go over spiritual and corporeal works of mercy with the kids.
Bake bread, giving loaves to others.
Thanksgiving
(4th Thursday of November)
Christ the King
(final Sunday before Advent begins)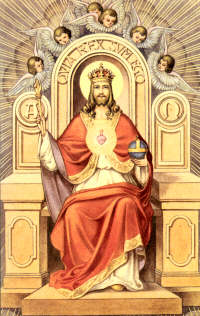 "And He will come down in glory to judge the living and the dead, and His Kingdom will have no end."
Make a special dinner.
Make a new liturgical wheel for the new Church year.
Make a Christ the King banner.
Make a crown on poster board and use it for Advent. The kids collect jewels for the crown to be able to crown baby Jesus on Epiphany (or for Christmas morning as a birthday gift).
Have a procession -- carry picture of Jesus, your banner, etc. End with prayer.
2016 Celebration (paper lantern craft)
St. Andrew Christmas Novena Begins
(November 30th)