Isn't it hard to believe Lent begins in a week? It seems to me like Christmas has barely faded away, especially with all this fluffy, Christmas snow that has fallen around here lately.
For awhile now I have thought and thought of what I wanted to do with the kids for Lent. Advent has become a very nice time indeed for my family, but Lent always seems to kind of fall away mid-season until Holy Week. So what could I do to keep the momentum going? Could I take anything that works from Advent and use it during Lent?
This is what I have come up with. On paper, it looks like so much, but I think it will be very doable in real life, even for those days where I do not have much energy, which seems to happen much too regularly lately.
(I did call to see the doctor for all "this weird stuff going on" as I told him over the phone. I am not so sure it is migraine related. It is very frustrating, but I try to remind myself that it could be so much worse.)
During Advent we love the
Jesse Tree
so we will continue with our
Jesus Tree
, which I had posted about last year. I do plan on switching up how we do it as I have never liked the felt background I made, and our space is smaller at this new house. But, truly this is the simplest thing to do with the kids and it only takes a few minutes each day. Then, each year, they are learning salvation history again and again and again. I have started to see the fruit of this practice in my oldest with his Biblical knowledge.
We will have some kind of visual countdown. I will leave it up to the kids: a paper chain countdown or a calendar of sorts like
this one
.
The kids (and I) loved reading about Jotham every day from
Jotham's Journey: A Storybook for Advent
. The author does have an Easter
follow-up book
, but since it is about Jotham's son, I will save this for the future after we have read through the other Advent books of his. Instead, I found the book
A Family Journey with Jesus Through Lent
, which uses kids of that time to tell the story. In addition to the story, it has a little thought to think about, as well as a craft and/or activity to do for the day if desired. This is my first time reading/using it, so I cannot say whether it is good or not. Flipping through it, though, it does seem promising.
During our dinners in Advent, we light the
Advent Wreath
, using song, prayer and candles. For Lent, I decided to grab enough candles for each Sunday in Lent (5 purple, 1 rose). Instead of lighting one the first days and adding to it, I like the idea of lighting all and slowly diminishing the light as we near Good Friday. I found prayers to use each week that seem fitting, and I will also sing a song as I proceed to light them. This past Advent, we added a
song to the Advent Wreath
and what a difference that simple change did. Not to mention, the kids loved it! For this Lent, I chose the chant
Agnus Dei
. (Check out this
video
for a simple "lesson" if needed.)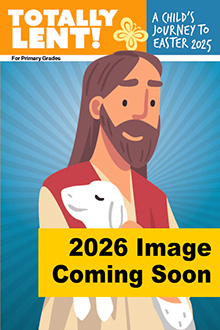 Finally, one last resource. Skipper chose to do a daily workbook / devotional to do during Lent from Pflaum Publishing:
Totally Lent! A Child's Journey to Easter 2013
. It looks "fun" and short and simple. He reads a bit - hopefully thinks on it a bit as well - and finishes a little puzzle or workbook activity.
I have some other plans for the kids, some are day specific, and hopefully I can share as we go along. Most of all, though, I pray we have a fruitful Lent, and I pray the same for you. God bless.