My brother and his family are in town. The presents are wrapped, thank goodness! We are making cookies tomorrow - a family affair. The last Advent prayers will be said. My husband is off work now through January 2nd on a much-deserved (and much-needed) break. The entire company shuts down for the holidays. Isn't that nice? This company has been the friendliest family company he has worked for. They all put in a lot of hours, but the company has a nice pattern of up and down time (versus continuously long hours with no end in sight like previous employers). And, finally, we are all excited for Christmas to arrive!
On a side note, I sing the appropriate verses of O Come O Come Emmanuel each night after praying each O Antiphon. As I have mentioned before, I cannot sing well and for the life of me, I cannot catch the right tune for the other verses in this song. I said as much the other night, and my oldest (he's seven), said, "It sounds good to me." That boy is such a sweetie.
So onto the plans for the last few days of Advent and for the Christmas season. As always, these are my plans. Life happens, but I do at least try to keep all the prayers intact (though on occasion even that slips).
This post is rather long as there are so many wonderful feast days to celebrate during Christmas!
Last few days of Advent...
Finish up the Advent side of the Jesse tree. Work on making the 12 Days of Christmas add-on to have ready.
Pray the last of the O Antiphons.
Continue praying around the Advent wreath (replace the greens Christmas Eve).
Joseph and Mary arrive at Bethlehem (the nativity scene).
Finish Jotham's Journey: a Storybook for Advent (I am loving this book this Advent - so is Skipper!).
Final grocery shopping.
Ice-skating on Sunday.
Bake cookies on Sunday (ice or wait until Christmas Eve?).
Go look at Christmas lights.
Make starlight cookies.
Make and order photo book for Miss Z's first year.
Christmas Day
Attend Christmas Mass.
Reveal Christ candle.
Lay baby Jesus in the manger.
Have orange cinnamon rolls for breakfast.
Celebrate Christmas with husband's family.
Begin wise men on their journey.
December 26th: Feast of St. Stephen
Prayer.
Celebrate Christmas with my family.
Read the story of St. Stephen in the Book of Acts, chapter 6 and 7.
Sing "Old King Wenceslas."
Do something with the corporeal works of mercy for the poor (poor box?).
December 27th: Feast of St. John the Apostle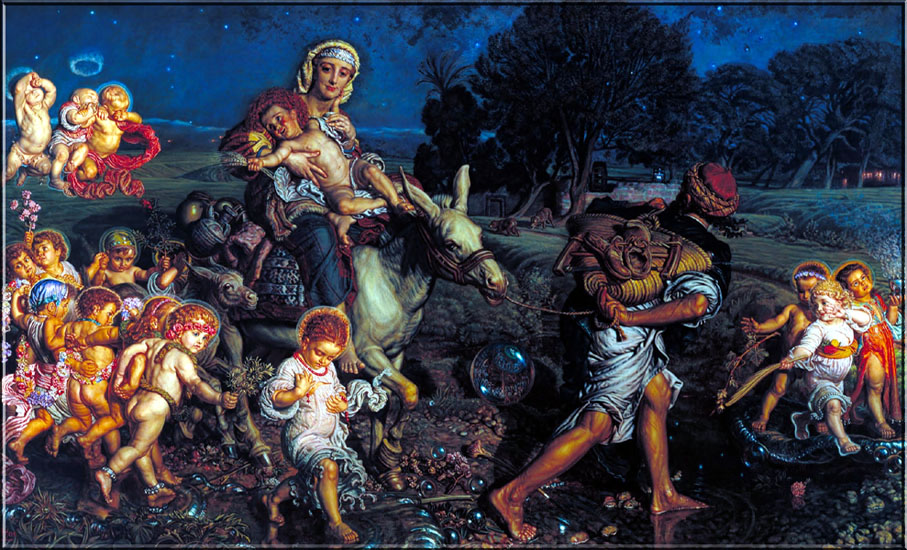 December 28th: Feast of the Holy Innocents & Miss Z's Birthday
Prayer and Blessing of the Children. Add prayer for the unborn and the end to abortion.
Listen to Coventry Carol.
Maybe a symbolic breakfast? Oatmeal or pancakes with raspberry preserves? (To symbolize innocent blood shed.)
Have small family celebration for Miss Z's birthday, which means family, a few presents and a cake.
December 30th: Feast of the Holy Family and My Nephew's Baptism
I have Holy Family puppets the kids can make if time allows and they want. They are something I had found a few years ago, but never made.
Do something together as a family - outside of the baptism.
Quietly renew wedding vows between my husband and I.
Pray for all families and for our country to uphold the sanctity of the marriage bond, which is under attack.
Attend my *godson's* baptism. ;)
December 31st: New Year's Eve
Have our annual family party. Music, pictures, games, food, fun.
Use a Saint's Name Generator to pick out a family saint for the year 2013.
January 1st: Mary, Mother of God
January 3rd: Most Holy Name of Jesus
Talk to kids about manners concerning Jesus' name (bow head).
Point out IHS at church and what it means.
January 5th: St. John Neumann (by Skipper's request)
Prayer.
Plan future visit to a prayer center nearby with dedication to St. John Neumann (or possible field trip IF the weather cooperates).
Do something extra based on his life? I have some ideas...
January 6th: Epiphany of the Lord
Kings finally arrive in Bethlehem.
Sing "We Three Kings." Kids dress up and act out or act out using nativity sets?
Star-shaped pancakes for breakfast or lunch.
Make a king cake.
January 13th: Baptism of the Lord
Prayer - repeating of baptismal vows as we light each candle.
Table decor: one white candle for each family member surrounded by shells.
Go down memory lane - baptismal candles, pictures, gowns, etc.
Make baptism tree ornament to hang on Christmas tree (have picture of each child and baptismal date). Make one for our godchildren and send next Christmas?