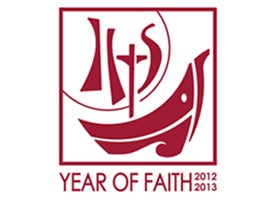 For my Catholic readers, I am sure you know that tomorrow starts a Year of Faith as declared by Pope Benedict XVI, but I suppose there is always a chance someone's missed the word... In reality, it is slightly more than a year, beginning on October 11, 2012 and ending on November 24, 2013, the Feast of Christ the King.
I am not going to go into the details as you can do a search and find so much to look at. Instead, I will share some resources that I have found or someone has shared with me.
First, I plan on using this handy little
Bible study
to go along with the Year of Faith. I enjoy reading my Bible when I first wake up so this will be a nice addition and one that is easily added.
Receive pieces of the catechism in your email every day. By the end of the Year of Faith you will have read the entire catechism. Now, that sounds extremely easy to do!
Sign up now
!
Here is a page full of info from the
United States Conference of Catholic Bishops
and another at
Catholic Year of Faith
.
One last item I wanted to share does not have to do with the Year of Faith but looks like an awesome way to refocus on prayer with these goals in mind:
Bring a conversion of nations.
Build a culture of life.
Create peace throughout the world.
All are invited to join the International Week of Prayer and Fasting (IWPF) - at the individual, the parish and even the national level. All are welcome (prayer always is, right?). Some ideas (list provided by another mom):
Fast (can be anything from food to television to internet use, etc.).
Pray the Rosary daily.
Attend Eucharistic Adoration.
Recite the Divine Mercy Chaplet daily.
Consecrate yourself to the Immaculate Heart of Mary and Sacred Heart of Jesus.
Attend Holy Mass daily.
Perform Spiritual and Corporal Works of Mercy.
This is IWOP 20th anniversary! As a result, they are doubling their prayer days to 18 (starts October 20th and ends November 6th), which consists of two novenas. Check out
their site and sign up
!