Dedication for the Month of December:
The Immaculate Conception
O God, who by the Immaculate Conception of the Blessed Virgin Mary, did prepare a worthy dwelling place for Your Son, we beseech You that, as by the foreseen death of this, Your Son, You did preserve her from all stain, so too You would permit us, purified through her intercession, to come unto You. Through the same Lord Jesus Christ, Your Son, who lives and reigns with You in the unity of the Holy Spirit, God, world without end. Amen.
Saint Nicholas
(December 6th)
O good holy Saint Nicholas, you who brought joy to children, put in my heart the spirit of childhood about which the Gospel speaks. Teach me how to sow happiness around me. Amen.
Leave a surprise for the kids in the morning (in the shoes or on the table). See what I leave the kids.
Read books that star Santa / St. Nicholas.
Put out your Santa decorations.
Play with your food -- a cross pizza or cross pancakes and serve with "Bisschopswijn," a traditional drink (or grape juice like I do).
Saint Ambrose
(December 7th)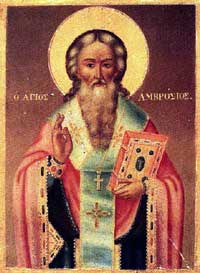 Lord, teach me to see you, and reveal Yourself to me when I seek You. For I cannot seek You unless you first teach me, nor find You unless You first reveal Yourself to me. Let me see You in longing and long for You in seeking. let me find You in love, and love You in finding.
Candle craft -- include the making of the Christ candle for the Advent wreath on this day. Our candles: 2011, 2015.
Read The Christmas Candle by Richard Paul Evans.
Solemnity of the Immaculate Conception
(December 8th)
Go to Mass -- it's a Holy Day of Obligation!
See notes above for more ideas.
Coloring page from Catholic Icing.
Have a special dinner or breakfast after Mass.
Have an all-white dinner.
Cover our Christ candle with lace and a blue ribbon. (More detail)
Our Lady of Guadalupe
(December 12th)
Our Blessed Mother said to Saint Juan Diego:
"My little son. Do not be distressed and afraid.
Am I not here who am your Mother?
Are you not under my shadow and protection?
Am I not the fountain of your joy?
Are you not in the fold of my mantle, in the cradle of my arms? ..."
Coloring page
Textile picture using beans and rice.
Plan a Mexican dinner.
Saint Lucy
(December 13th)
St. Lucy, pray that we may be the light of the world!
Say a prayer for the physically and spiritually blind.
Read the book Lucia, Saint of Light by Katherine Bolger Hyde
Make sweet bread.
Dress up in white gown, red sash, and candlelit wreath (boys can wear star hats) and serve the sweet bread to the family.
The Planting of the Wheat activity (I used cat grass since we are a mostly gluten-free household.)
Put up the outside Christmas lights.
Drive around to look at Christmas lights.
Make a candle gift for someone.
Saint Stephen
(December 26th)
We give thee thanks, O Lord of glory, for the example of the first martyr Stephen, who looked up to heaven and prayed for his persecutors to thy Son Jesus Christ, who standeth at thy right hand: where he liveth and reigneth with thee and the Holy Spirit, one God, in glory everlasting.
Read Acts 6-7.

Sing the song Old King Wenceslaus.
Saint John the Apostle
(December 27th)
God, who through the blessed Apostle John have unlocked for us the secrets of your Word, grant, we pray, that we may grasp with proper understanding what he has so marvelously brought to our ears. Through our Lord Jesus Christ, your Son, who lives and reigns with you in the unity of the Holy Spirit, one God, for ever and ever. Amen.
Feast of the Holy Innocents
(December 28th)
Holy Innocents, you who are now in Heaven, pray for all of us that one day we may join you there to bask in God's love forever.
Bless your children.
Listen to or sing the Coventry Carol.
Top oatmeal (innocence) with raspberry preserves (blood) to help tell the story - see 2013
Pray for all children in danger today.